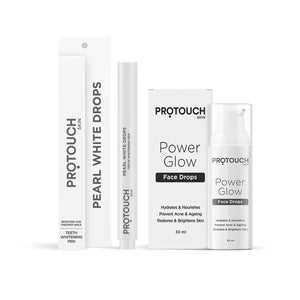 PEARL WHITE DROPS + POWER GLOW FACE DROPS
The Power and the Pearl, all set to make 'em yearn!
If you haven't already added this combo to your bag, you are missing out on a self-care experience of a lifetime.
Our Pearl White Drops are crafted to directly fight with the unwanted yellow tinge on your teeth, and add a layer of bright white shine, even to the innermost tooth. Made with a unique, tooth-friendly gel formula, your teeth will find a best friend in this elixir. Use daily and give your smile the ultimate makeover, that reflects nothing but confidence.
Combined with the Pearl White Drops is the Power Glow Drops in this one of a kind combo that is curated with the effectiveness of natural ingredients. It thoroughly understands your skin's needs and gives it the kind of moisturization and nourishment it deserves. Moreover, this hydrating serum feels so light on your skin, it instantly starts to breathe more freely. Let signs of ageing, wrinkles and fine lines be a thing of the past and say hello to healthy, youthful and natural-looking skin!