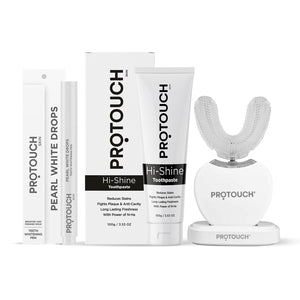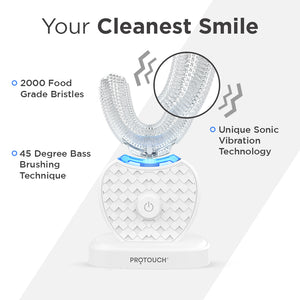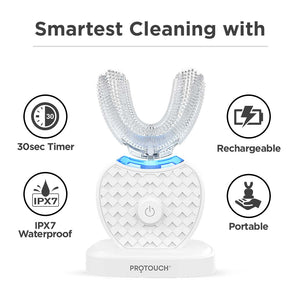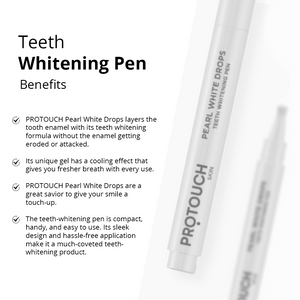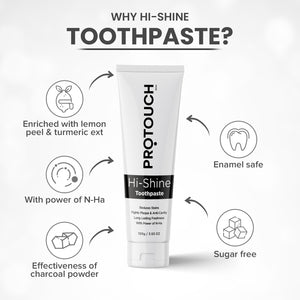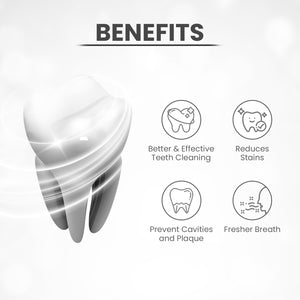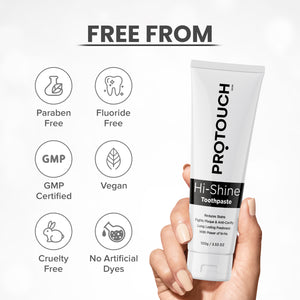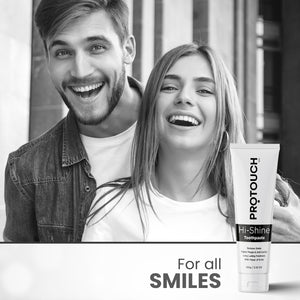 PROTOUCH PROTEETH Ultrasonic Toothbrush is specially designed to provide an upgraded brushing experience. Its unique U-shaped design with 2000 food grade soft bristle helps to provide full coverage and does a Deeper, Powerful yet Gentle cleaning.
The bristles are oriented at 45 degrees that precisely follow the curves of your gums to stimulate the modified bass brushing technique as recommended by Dental experts. Enabled with a 30-second brushing timer and smart memories mode.
PROTEETH is the newest innovation in an automatic ultrasonic toothbrush. It not only cleans your teeth in seconds but includes Blue Led light to help you archive those sparkling white teeth and provide healthier & stronger gums!
PROTOUCH Hi-Smile Toothpaste is a uniquely curated formulation to brighten your teeth and help fight cavities with trusted ingredients like Turmeric, lemon & orange peel extracts combined with enamel safe charcoal and powerful remineralising Hydroxyapatite (n-HA) with Vitamin E. Its sparkling grey foam helps you remove stains & plaque, fights cavities and gives you a boost of freshness that lasts for hours.
How to use: Take a pea size amount of the PROTOUCH Hi-Smile Toothpaste on your brush and brush your teeth with gentle & short strokes.
PROTIP – Place your toothbrush into your mouth at about 45` angle to your gum to be able to use dentist recommended bass brushing technique. You can also, use PROTEETH ultrasonic toothbrush for better results.
PROTOUCH Pearl White Drops is a one-of-its-kind product that gives a complete makeover to your smile. Aiming at brightening and whitening the teeth, it minimizes teeth stains and tints. With its precision brush, the whitening pen evenly covers the surface of each tooth, fighting the yellowish tinge and giving you a brighter smile. It is enriched with lemon peel extract & turmeric. Toxins free, this unique, vegetarian, tooth-friendly gel formula doesn't erode or harm the enamel & teeth. Welcome a brighter and shinier smile that oozes confidence, only with PROTOUCH Pearl White Drops!
Amazing
Easy to use, stylish design, love my whiter teeth. I get that just been to the dentist clean every day at home.
Simply perfect
Great product for the sensitive teeth users. By the 3rd use, I noticed a big difference in the color of my teeth. Highly recommended.
Nice product
I had been eyeing this product on Insta for a while. I have used it now for going on two weeks and my teeth haven't been sensitive at all. My teeth are whiter.
Amazing
I chose it because I didn't want to take any chances with my teeth. I showed the ingredients to a dentist friend and she said it's safe. After 21 days my results were amazing!
Amazing
I was skeptical about this but being stuck at home made me take a gamble and glad I did. I drink a lot of coffee and over the years my teeth have gotten yellow to the point my mom pointed it out. The results are amazing and definitely recommended to some friends and family.